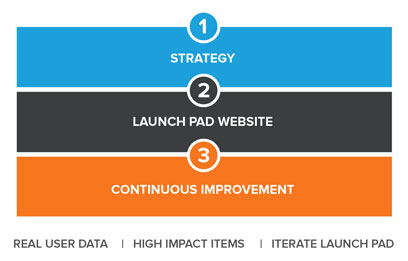 The Growth Driven Design method of building a new website is more comprehensive and progressive than a traditional build it and forget it website. We start with the Strategy Phase by developing your website visitor personas, brainstorm a wish list of functions and content for your new website, and create a design based upon fundamental industry assumptions. These are procedures that we apply to a traditional website build, except the difference is that we launch your Growth Driven Design Website within 30 days at a lower cost!
Why a lower cost? Because we're not done building your website! Instead of launching a final platform, you are launching an agile mold from which you can build and improve upon, depending on the data we accumulate from your users. We continue to build and improve your site over the next 12 months.
After the launch, we start the Continuous Improvement Phase by running monthly analytic reports and heat map analysis to gauge how visitors are interacting with your site. With this actual user experience information we are able to improve the flow of your website, identify & implement high impact changes, and repeat these steps every month for a year.
The result is a website that is actually works for you and your visitors. Your website should never remain static. Your website should reflect the growth and vitality of your organization. It should always be growing and improving!